RoSafety Integrated Safety Management
RoSafety Integrated Safety Management (ROSAFETY) Software is a multi-featured SaaS (Software as a Service) web based application. With user-friendly interface that has been designed and developed by leading Occupational Health & Safety (OHS) professionals to manage all your OHS requirements. Its different modules provide benefits to any organization as it can manage real-time OHS records and compliances. It is a cost-effective solution for organization of any size.
---
Manage your users and assign specific roles as required by each app. Grant privileges or delete any user as required by your management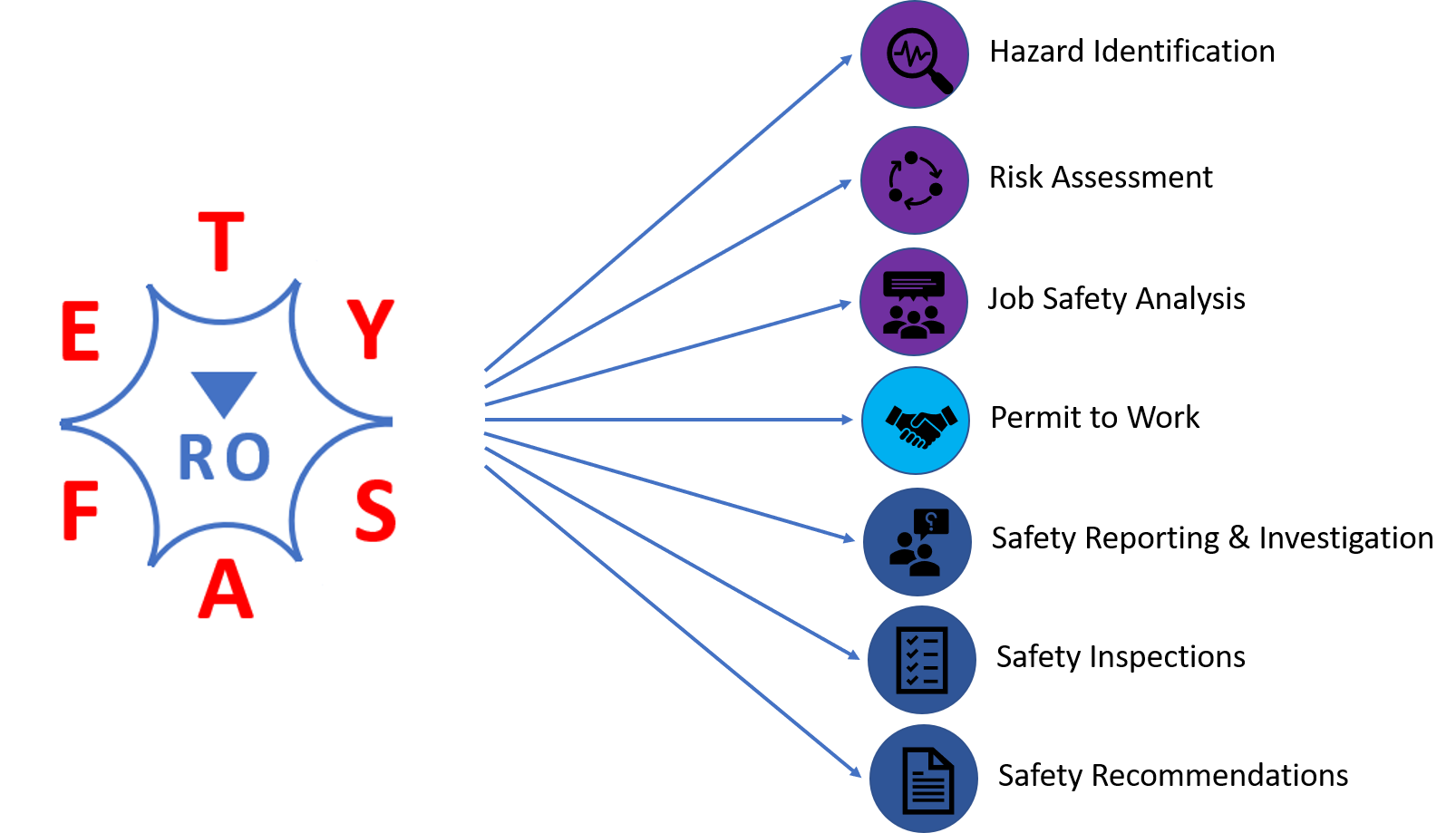 ---
Permit to Work
Allows user to prepare, issue and follow up on Permits to Work, online using a computer, a tablet or even a smart phone
Hazard Identification
Identifying hazards is the first step for any company in implementing safe work conditions
Risk Assessment and Controls
For each identyfied hazard, a risk assessment shall be performed to evaluate their effects on People, Equipent, Environment and Reputation
Job Safety Analysis
One step in developing safe work procedures is the Job Safety Analysis. have it done either for all activities performed on your site or for special jobs performed by your contractors
Safety Reporting
A very important tool in preventing major incidents is Safety Reporting. Succesfull implementation is the first step toward a safe work place
Safety Inspections
Have all your Safety Inspections reports being recorded and tracked
Incident Reporting
In the unfortunate case of an incident, this tool provides ways of capturing information to be used in an Investigation
Incident Investigations
Perform Incident Investigation, using either a simple WHY? technique or a complex Root Cause Analysis and generate Corrective Actions to prevent reccurance
Work Order and Asset Management
Initiate and plan your Maintenance Work Orders. Maintain Asset Management
---
Permit to Work
Prepare and issue

Permit to Work

online or print the pdf form to be used offline is at hand. Define your own

Permit to Work Type

, identify work related hazards and controls, record

Gas Testings

before, during and on work completion and, if the case, implement an

Isolation Certificate

in order to provide safe working conditions. Graphical reports are available under

Statistics

for your Management
Hazard Identification
Hazard Identification

is the process of finding and recording all possible hazards that are or may be present in the workplace. Hazard Identification is part of Risk Assessment process in which the hazards are identified and assessed so that proper measures are established to eliminate them or control their effect.
Risk Assessment and Controls
Perform a

Risk Assessment

for identyfied hazards effect on People, Equipment, Environment or your Company Reputation. Use built-in

Risk Matrix

to take actions for the risks than cannot be tolerated by identifying controls (Engineering, Administrative, PPE or Supervision). Have an overview of your Company risks through the

Risk Register

. When required, develop a

Job Safety Analysis

for activities performed on site and have it reviewed by Safety Department and approved by your Management.
Job Safety Analysis
Job Safety Analysis (JSA)

is a safety management tool in which the identified work related hazards and controls are implemented. The JSA process is documented and the JSA document is used in the workplace or at the job site to guide workers in safe job performance.
Safety Reporting
Report

Unsafe Acts

,

Unsafe Conditions

,

Near-Misses

or

Incidents

and perform a simple

Investigation

(using WHY technique) or a detailed

Root Cause Analysis

. Assign

Corrective Actions

and follow-up on implementation. Allow your employees to record their

Safety Suggestions

so that Safety Department can make safety improvements.
Safety Inspections
Record your

Safety Inspections

findings for a easier follow-up on implementation and repetitive items. Safety inspections are an excellent way to reference the commitment to safe work practices, provide safety awareness and minimize hazards at the workplace. Also, it provides a systematic method for involving supervisors, employees, safety coordinators, and/or safety committees in the process of eliminating workplace hazards.
Incident Reporting
Reporting

Incidents

is essential since it raises the organization's awareness about the things that can go wrong so that corrective and preventative actions can be implemented promptly. It also creates lessons learned within the organization contributing to an enhanced safety culture
Incident Investigation
Incidents

need to be investigated whether an

Unsafe Act

,

Unsafe Condition

, a

Near Miss

or an actual

Incident

. Investigations reveal the effectiveness of hazard control in an organization and identify before another like incident becomes a serious incident. The objective of the incident investigation is to identify the root cause of the incident. Whether a simple

WHY?

or a

Root Cause Analysis

, the outcome in terms of

Corrective Actions

, are necessary for preventing recurrence
Work Order and Asset Management
Catalog (in the app) and tag (in the field) your assets and equipment using

Asset Management

, define maintenance activities to be performed with

Work Order Type

and create

Work Orders

for maintenance or inspection activities. Have your Maintenance crew report their activities on a daily basis and follow-up on the status of the work. Graphical reports are available for

Overview

by your Management